Professional Grade Tool • Premium Steel • Polished Chrome Finish • Unique Bent Design
Professional Grade Tool • Premium Steel • Polished Chrome Finish • Unique Bent Design
WHY NOT GET BENT?
BENTWRENCH ™ combination wrenches allow you to access nuts and bolts at awkward angles, all while maintaining a strong grip and ample leverage.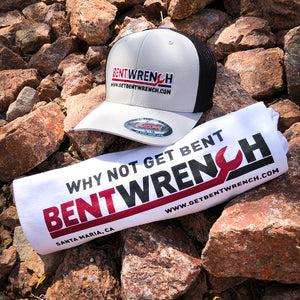 Created From Experience
BENTWRENCH ™ was invented by Gary Nunes along with his wife Jennifer Nunes. Gary was born and raised in Santa Maria, California. As a 3rd generation diesel mechanic, Gary has over 30 years of experience working with different types of tools. BENTWRENCH ™ was creating for not only professionals in the business, but also for day to day use.
Learn More
Your New Go-To Wrench
Different from traditional wrenches, BENTWRENCH ™ offers several enhanced features including an offset steel handle and angled open end. Available in American Standard and Metric sizes.